SERGEANT WILSON (BILL) PENMAN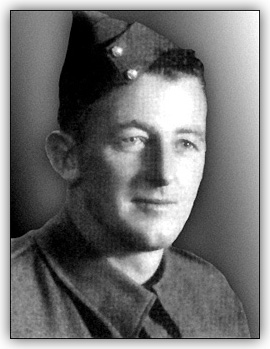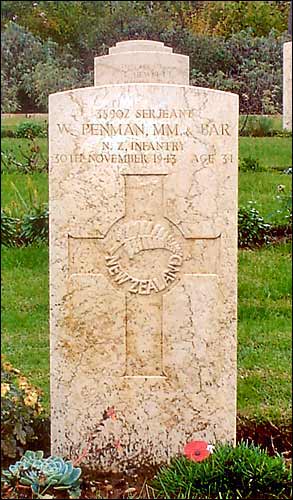 ORIGINAL SET OF MEDALS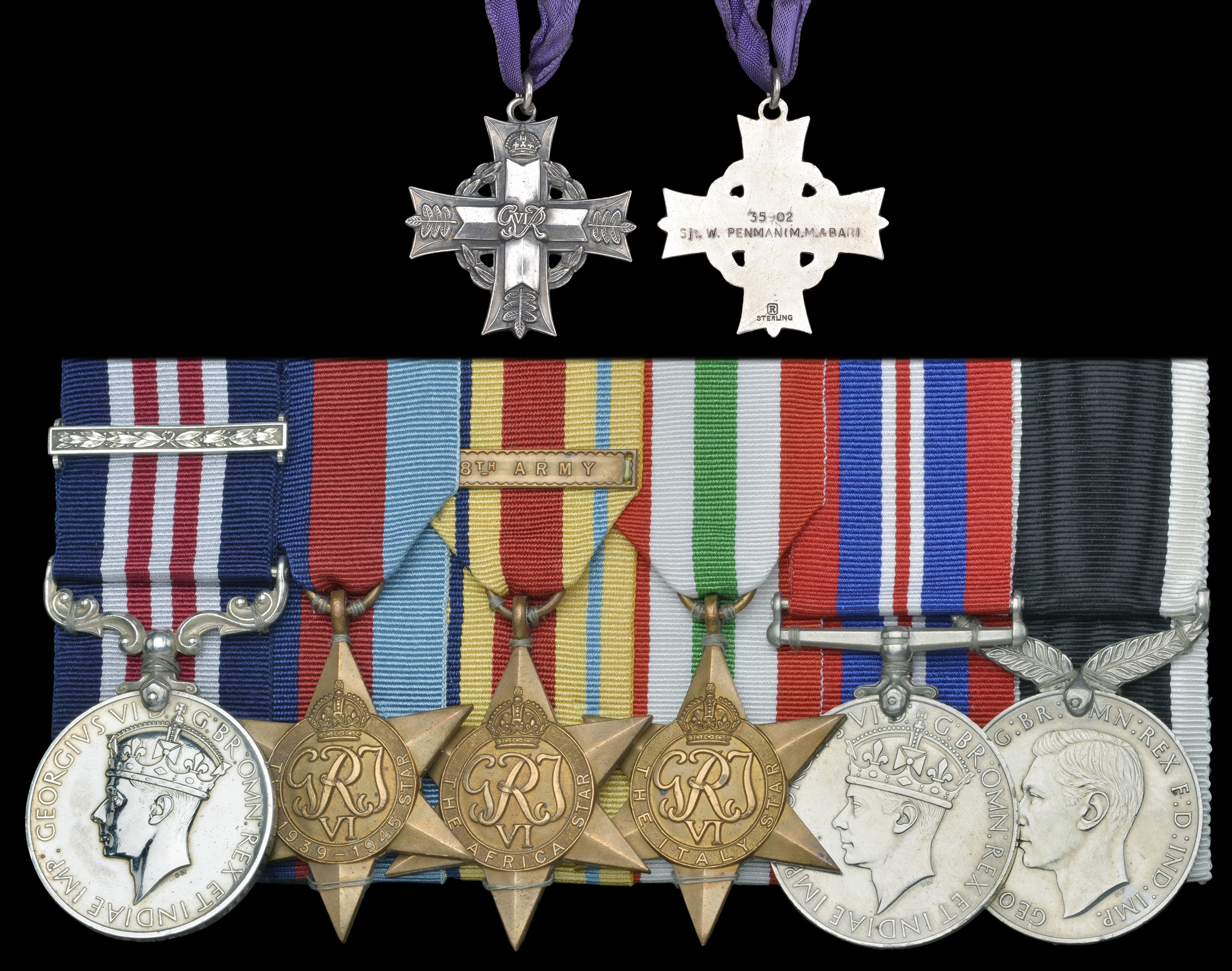 A rare Second World War North Africa operations M.M. and Bar group of six awarded to Sergeant W. Penman, 25th (New Zealand) Battalion, who was decorated for his gallantry on Meterya Ridge in October 1942, when he was wounded, and at Djebel Tebaga in March 1943 - he was subsequently killed in action in Italy
Military Medal, G.VI.R., with Second Award Bar (35902 L./Sgt. W. Penman, 2 N.Z.E.F. 1943); 1939-45 Star; Africa Star, clasp, 8th Army; Italy Star; New Zealand Service Medal 1939-45; War Medal 1939-45, together with the recipient's New Zealand Memorial Cross, G.VI.R., the reverse officially inscribed, '35902 Sjt. W. Penman, (M.M. and Bar)'.
Footnote
Just four M.Ms and Bar were awarded to members of the New Zealand Forces in the 1939-45 War.
M.M. London Gazette 15 June 1943. The original recommendation states:
'On the night of 2l-22 March 1943, throughout the 25th N.Z Battalion's attack on Hill 201 at Djebel Tebaga, Lance-Sergeant Penman showed outstanding qualities of courage and leadership. During the reorganisation of the objective, this N.C.O., on his own initiative, led his section away to the left flank where the enemy was so fiercely attacked that they became completely demoralised and over 100 prisoners were taken. Lance-Sergeant Penman's example of coolness under fire during the attack and his exploitation after the objective was reached were of the highest standard.'
Bar to M.M. London Gazette 14 October 1943. The original recommendation states:
'On the night of 23 October 1942, during the attack on Meterya Ridge, Corporal Penman's Platoon Commander and Sergeant became casualties. He took over command of the Platoon and was personally responsible for obtaining assistance for many wounded members of his platoon although suffering from wounds himself. Throughout the offensive action he showed excellent leadership and devotion to duty and his courage, determination and disregard for his own personal safety were a fine example and inspiration to those under his command.'
Wilson Penman was born in New Zealand in January, 1909, and was a Printer's Machinist by trade. He enlisted in the New Zealand army at Trentham on 21st May, 1940 and after training, was embarked for Egypt where he arrived in mid-December 1940. Wounded in Libya during the action for which he was awarded the Bar to his Military Medal, Penman was promoted to Sergeant in June 1943 and, after attending weapons and mines training courses, proceeded with his regiment to Italy. And it was in this latter theatre of war that he was killed in action at Sangro River on 30 November 1943.